About Us
Spectrus started its operations with the objective of providing high quality spectrum of services where technology plays an important role in delivering business value.
At Spectrus group, our ideology revolves around developing products and solutions, leveraging emerging and advanced technologies in a sustainable way. This thought is embedded in our every service and solution. Our idea is to innovate and execute ideas that pave way for a more and better sustained future.
In order to achieve the same, our team constantly work closely with the technologies available, developing products and solutions that act as a roadmap to a more sustainable future. Headquartered in Bangalore, India, we have our operations in China, UK, Australia and US.
Technical Team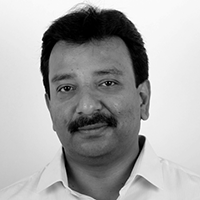 Ajay Varghese
Director – Products & Services
Ajay has over 18 years of experience in building and delivering IT solutions across different verticals and domains, and holds a Master's Degree in Computer Science. He is a Mobility expert (having led HP's Mobility Excellence Centre at the Global Delivery Centre in India) and is a Blockchain enthusiast.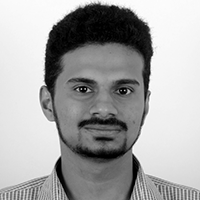 Akash Mahale
Web and Hybrid Mobile App Developer
Akash is an application developer specialised in building Web and Hybrid mobile applications on iOS and Android. He has extensive experience working with Angular and Ionic. Akash holds a Bachelor's Degree in Engineering.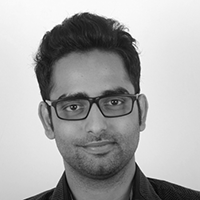 Anshuman Singh
Blockchain & Hybrid App Developer
Anshuman is an application developer building Web, Blockchain and Hybrid mobile applications. He is a technology enthusiast with a knack for solving 'anything technical'. He works on Angular, Node JS, no-SQL databases, Ionic, Ethereum, Multichain and scalable architecture for Cloud platforms.
Vishwas Vogga
Web and Mobile App Developer
Vishwas is a seasoned application developer building Web and Mobile applications. He's expertise are on Angular, no-SQL databases, Ionic and Native Android applications. He holds a Bachelor's Degree in Electronics and Communications Engineering.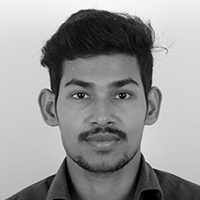 Abdul Gani
Web and Mobile Developer
Abdul is an experienced application developer building Web and Mobile applications with a primary focus on Angular, no-SQL databases, Ionic and Native Android applications. He's an analytical thinker and technical problem solver.
Management Team
Mahadev Chikkanna
Executive Director
Entrepreneur, investor & sales leader with 18+ years experience in senior leadership roles globally.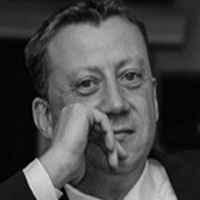 Dr Karsten Brast
Executive Director
German, with 20+ years experience in key leadership roles globally.
Shruthi Ujjani Ramesh
Director
More than 10+ years experience in investing, incubating and mentoring start-ups.
Neelu Chawla
HR Partner
More than 17 years experience in human resources management for information technology and services industry.
Spectrus Group is looking for smart and innovative people with strong problem solving skills. If you have a huge passion to explore your abilities in challenging projects with Blockchain and Digital Transformation, let us know by sending your resume to careers@spectrus-group.com