About Us
Spectrus started its operations with the objective of providing high quality spectrum of services where technology plays an important role in delivering business value.
At Spectrus group, our ideology revolves around developing products and solutions, leveraging emerging and advanced technologies in a sustainable way. This thought is embedded in our every service and solution. Our idea is to innovate and execute ideas that pave way for a more and better sustained future.
In order to achieve the same, our team constantly work closely with the technologies available, developing products and solutions that act as a roadmap to a more sustainable future. Headquartered in Bangalore, India, we have our operations in China, UK, Australia and US.
Management Team
Mahadev Chikkanna
Executive Director
Entrepreneur, investor & sales leader with 18+ years experience in senior leadership roles globally.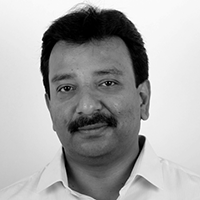 Ajay Varghese
Director – Products & Services
More than 18 years of experience in delivering IT solutions across different verticals and domains. He is a Mobility expert and Blockchain enthusiast.
Shruthi Ujjani Ramesh
Director
More than 10+ years experience in investing, incubating and mentoring start-ups.
Neelu Chawla
HR Partner
More than 17 years experience in human resources management for information technology and services industry.
At Spectrus, we are constantly looking for smart and innovative people with strong problem solving skills. If you have a huge passion to explore your abilities in challenging projects with Blockchain and Digital Transformation, let us know by sending your resume to careers@spectrus-group.com